Friday, November 22, 2019
Why should the 2020 Census matter for immigrant communities in DC?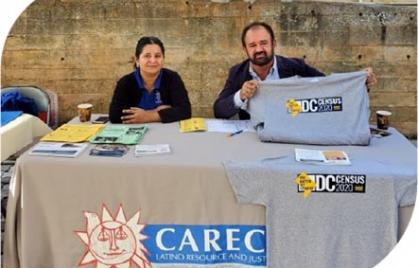 While the US Census may sound boring -- you're just counting everyone, right? -- an accurate count is actually essential to determine proper allocations of resources to American communities.
In other words: Who gets how much federal funding.
No one knows this better than the Central American Resource Center (CARECEN), the largest Central American immigrant rights organization in the country. CARECEN focuses on defending human and civil rights, as well as providing social and economic justice for all immigrant communities.
CARECEN regularly uses Census data in their work to connect with the immigrant communities they serve. Census data allows them to scale their work across multiple wards in the District of Columbia and extend their reach beyond Columbia Heights, the neighborhood in which they reside. "Census data helps us to reach more people, especially those hard to count such as seniors and children," Anabell Martinez, Housing Director of CARECEN says.
"Everything has to do with data," Martinez says. "Now that we have a new administration that our Latino community -- and especially seniors -- are scared of, we have to explain to them that their voice matters to D.C. And, based on all the people we count, that is how we obtain funding for all social services, better schools, affordable housing, affordable health care, etc."
Over the years, CARECEN has seen a population boom in the communities they serve. Martinez noted that. as the community grows, their needs -- such as the cost of housing -- are growing as well. For the 2020 Census, CARECEN is focused both on documenting the recent population growth and on calming the fears their community has about what the Trump administration might do with census data.
CARECEN has two messages for the community:
Not being counted provides fewer resources for the community.
Encouraging others in your community to be counted is important for current and future members of the community.
"That is how we obtain social services benefits for our community, such as better schools for our children, affordable housing for seniors and low-income families," Martinez says. "It matters because we as an organization that provides community services and depends on funders to sustain the programs."
While CARECEN understands that the Trump administration's actions on immigration in the past few years -- including trying to end DACA, separating families, and requiring that asylum seekers apply for asylum in other countries before they come to the United States, and calling all Mexican immigrants rapists and drug dealers -- might make people nervous about giving the government any information, they also understand that not being counted will only disempower the community further. Without an accurate census, there won't be enough money. And without enough money, people won't get needed services.
Martinez says that she's going to make sure she is counted because, "I am part of this country. I am a citizen of this country and I pay taxes."
And you can bet she'll make sure everyone she knows is counted as well. Will you?