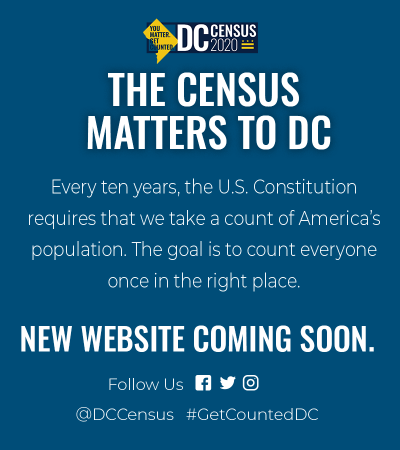 Featured Homepage Events
Census Ambassador Training -

Thu, Nov 21
DC census is hosting an "Ambassador Training" for any interested resident. Learn more about how the census impacts you and how you can help to get your community counted in 2020.
Census homepage ribbon banner
Census homepage feature content section
Why the Census matters
The District receives over $6 billion annually through large Federal spending programs such as Medicaid, SNAP, Housing Vouchers and education grants based on census data. A complete count means the District receives the funding and services it is entitled for our residents. Census data is also used for planning, policy and budgeting decisions across the City.
New for 2020
New technology will make it easier than ever to respond to the census. For the first time, the internet will be the primary response option making it easy for the public to respond from any location, at any time, all while keeping your information confidential and safe.
Sign up for news and alerts
Stay up to date on the latest news about the census.